Regular price
£150.00 GBP
Regular price
Sale price
£150.00 GBP
Unit price
per
Sale
Sold out
View full details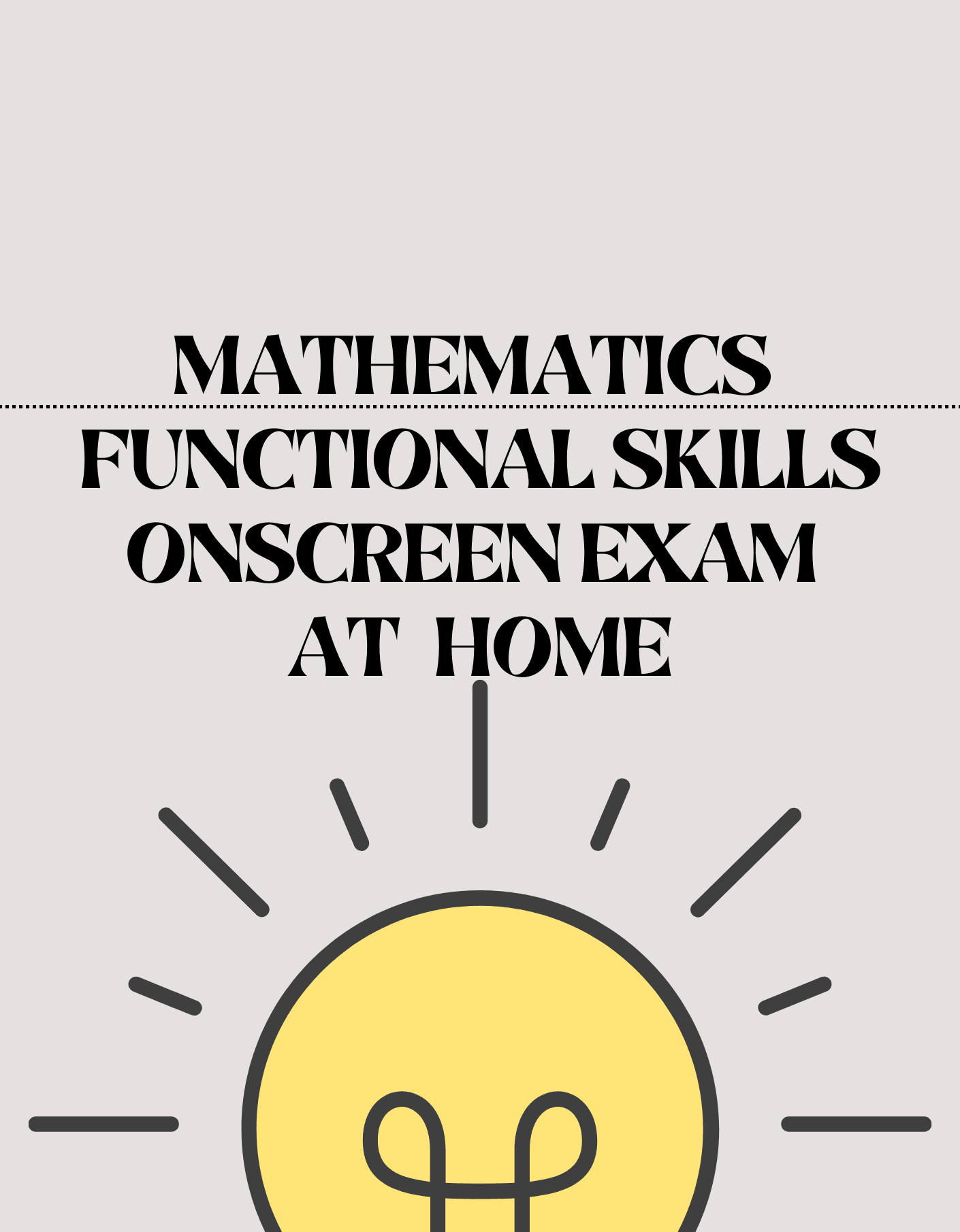 Collapsible content
New Functional Skills Exam At Home

We are pleased to introduce a new way candidates can take their Edexcel Functional Skills Exam at Home. Using a computer – along with a smart phone – English and Maths Functional Skills Level 1 and 2 examinations can be booked for any day and at virtually any time.

These examinations rely on the candidate having a good internet connection and the special app which can be downloaded onto the candidate's own smart phone. The examinations are invigilated through both the computer's camera and the camera facility on the smart phone.

Once booked, the candidate is given comprehensive instructions of how to download the app and set up both their smart phone and computer camera ready for the exam.

The candidate must take the exam in a quiet room with no other person present. The immediate surroundings will be 'swept' with candidate's smart phone to show the remote invigilator that no unauthorised material is present in the room.

The smart phone is then placed in the prescribed position and the exam accessed via the computer.

The Functional Skills examinations are identical to those taken in the centre. The exams will be processed and marked in the same way.

Please note: Candidate's who wish to book Functional Skills at Home for Maths exams must give 9 days notice to book an exam.
Exam Information

Onscreen Functional Skills exams can be booked at any time throughout the year.


Results are emailed to candidates 10-14 working days after the test but can take up to 28 days.


Functional Skills certificates are posted up to two weeks after the results have been issued.


GCSE Equivalent Qualifications are accepted by colleges, universities and training providers.

Colleges and Universities will accept Functional Skills Onscreen Qualification as being equivalent to GCSE.

Functional Skills Exams at Home are available any Day and Time of your choosing

Functional Skills Maths Level 1 or Functional Skills Maths Level 2 - £150

Edexcel Functional Skills On Screen Examinations. One exam (1 hour 45 minutes).

(Require 34 or 36 from 64 marks for a Pass from 16 Questions).
(4 non calculator questions  + 12 calculator questions).

Functional Skills Level 1 Mathematics and Functional Skills Level 2 Mathematics aims to ensure that each individual is able to solve problems in real-life, functional contexts and develop skills in:

Using numbers and the number system –whole numbers, fractions, decimals and percentages.
Using common measures, shapes and space.
Handling information and data.

Functional Skills Mathematics Level 1 and Functional Skills Mathematics Level 2 qualifications are designed to give learners the skills to operate confidently, effectively and independently in education, work and everyday life. Functional Skills Mathematics Level 2 have been created in response to employers' perceptions that many learners are not achieving a sufficiently firm grounding in the basics.
Tutor Information

Our Functional Skills Maths Course is designed for those who wish to undertake a short and intensive course covering the curriculum of the Edexcel Functional Skills Maths examination.

4 x 1 hours lessons
You will receive four online lessons each session is one hour long and is conducted on a 1-2-1 basis ensuring that you receive personal and intensive tuition.

Sessions can be arranged at a day and time to suit you best and as they are conducted over Zoom there's no need to worry about travelling to sessions.
Practice Functional Skills

Maths
Links below are for candidates to practice before sitting the test which replicates the look and feel of the functional skills maths onscreen testing program. 

The Sample Test Player software must be installed on a Window 10 computer or laptop for the links to work. 

The practise tests can only be used on laptop or computer and cannot be used on mobile phone or tablet.
Functional Skills Setup Videos
Functional Skills Exam Videos
FAQ

Q. Which examination board do you use for Functional Skills tests?
A. The Functional Skills tests are administered by Pearson/Edexcel.

Q. Can I use a calculator in the Functional Skills Mathematics test?
A. The Functional Skills mathematics has both non-calculator and calculator questions. There is an on-screen calculator which candidates can use in the calculator section of the tests.

Q. Which Functional Skills level is equivalent to GCSE?
A. Level 2 is generally accepted as equivalent to GCSE.

Q. Are there pass grades in Functional Skills?
A. Functional Skills Tests are either Pass or Fail. There are no grades awarded.

Q. How long does it take for results to be issued? 
A. Results are usually available and emailed to candidates 10-14 days after the tests but in exceptional cases this could take up to 28 days.

Q. Where are the functional skills tests held?
A. The Functional Skills test are taken at the candidate's home.

Q. How long are functional skills test
A. Functional Skills Maths - The Functional Skills Maths Test lasts 1 hour 45 minutes.

Q. What happens if I fail my Functional Skills Exam
A. Once you have received your results you can book another test. Instructions concerning re-takes will be emailed with the results.

Q. Are the Functional Skills tests paper based?
A. The Functional Skills tests are taken on a computer. There are practise tests available on our website so candidates can familiarise themselves with how the tests work.

Q. Can I request a re-mark?
A. Remark is available for Onscreen Functional skills exams. The fee is £50 and must be requested within 28 days after receiving your results. 

Q. Do I receive a hard copy certificate?
A. Yes, these are usually sent out 10-14 days after you received your results. These are posted by recorded delivery. Please keep your certificate safe as there is a charge for replacements.
All three components of the English Functional skills must have a PASS to receive a Certificate.

Q. I have learning difficulties.
A. Candidates with learning difficulties can apply for 25% extra time.  Candidates must supply either a recent psychologist report, an Education Health and Care plan (EHC Plan) or a report from your Doctor  listing your learning difficulties and must mention that extra time is required during educational examinations before booking the exam. Please note this arrangement does not apply for GCSE and A Level.

Q. Is there any age limits taking the functional skills tests?
A There is no set age limit for taking Functional Skills tests.

Q. How many times can resit on-screen Functional skills test?
A. Learners can resit the tests as many times as required. Resits can be booked after the results have been released.

Q. What is the cancellation policy?
A. To cancel a functional skills test and to receive a full refund we must be informed by email six days prior to the test.  No refunds will be issued after the six day cancellation period.

email to cancel: cancelexamfs@examcentrebirmingham.com
More Exams
Regular price

£150.00 GBP

Regular price

Sale price

£150.00 GBP

Unit price

per

Regular price

£250.00 GBP

Regular price

Sale price

£250.00 GBP

Unit price

per

Regular price

£115.00 GBP

Regular price

Sale price

£115.00 GBP

Unit price

per